This is a summary of some of the Werrington Area Forum's Community events
March 2020: All Community work suspended due to Covid-19
Werrington Flower Arranging Group 13th February 2020: Over 50 people heard a brief presentation about the Neighbourhood Plan's current work
'What we like best about Werrington': Our young resident's artwork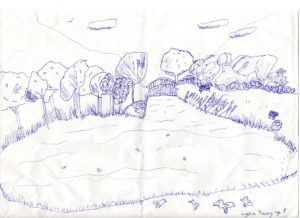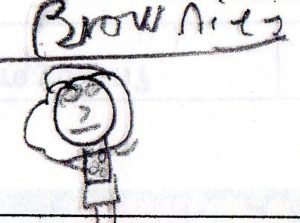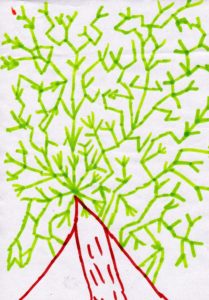 Werrington Christmas Tree Festival 30th November/1st December: The Neighbourhood Plan presented a Christmas Tree at the Parish Church's Christmas Tree Festival. Extracts of 'All things good in Werrington' were included on baubles on the tree with a explanation about the Plan. This was viewed by over 100 local residents over the weekend.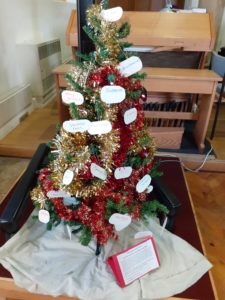 Community Police Event 23rd November 2019:  30 people attended this event and the Neighbourhood Plan had an information display. During the presentations, details of the questionnaire was presented and data referring to personal safety, crime and antisocial behaviour was able to be shared.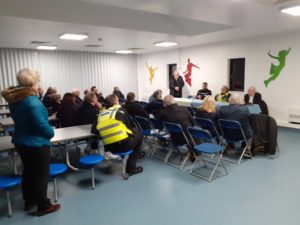 Werrington Library Drop In  16th November: A table with our leaflets was at the library this Saturday morning. Approx 50 people were approached and the majority of these had heard of the Neighbourhood Plan and most had already completed the questionnaire.  Several questionnaires were handed out and a further ten were completed that morning.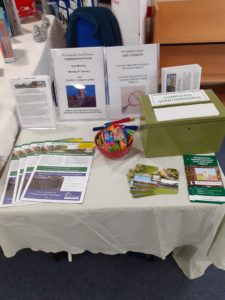 Our Youth Groups:  Thank you to the Thursday Cubs, the Wednesday Brownies and the Hodgson Guides for inviting the Neighbourhood Plan team to their meetings in October and November. A short presentation was given to each group, short feedback given and a questionnaire taken home.  The guides also did a longer feedback activity. The results have been feed into our Young Resident's feedback. Thank you to the Princes Trust at The Barn, Hodgson Centre for allowing us to speak to your group about Neighbourhood Plan. We were pleased to be able to link this to community involvement. Special thanks to Kayleigh, Jake and Jack for their input. The groups also got involved with the 'Werrington Rocks' activity designing their own rocks and helping to distribute them.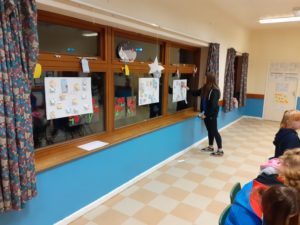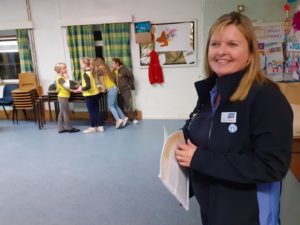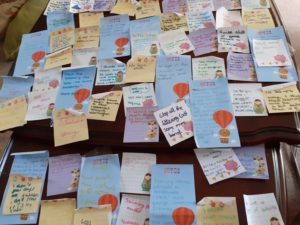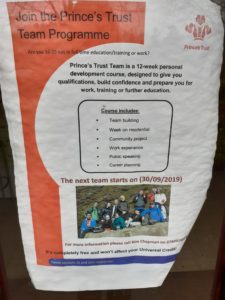 Werrington Rocks! Our young residents have been helping to design and paint rocks to place around our community to help spread the word about the Neighbourhood Plan. These featured designs relevant to the Plan such as wildlife, trees, buildings and relevant phrases. Thank you to everyone who took part in this project.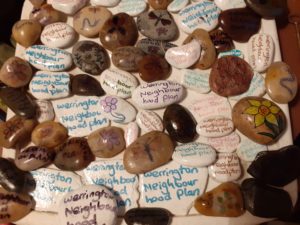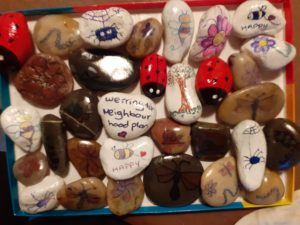 OUR COMMUNITY GROUPS
Werrington Community Association Full Council 10th September 2019 : An informative presentation with update was made to the 20 members of the WCA
Women's Institute 17th October 2019: A detailed presentation about the purpose and time scale of the Neighbourhood Plan was made to the 30 members of the Werrington WI.
Local History Group 7th November: A short presentation was made to remind the 5o members attending about the Neighbourhood Plan and to ensure everyone was aware of the questionnaire. An introduction was also made to the Character Assessment and a couple of volunteers offered to join in the project. Several copies of the questionnaire were distributed.
Environment Group Presentation and Bat Walk  September 2019: An evening to update about The Brook, Cuckoos Hollow and Werrington Bats was held attended by 40 people. The Neighbourhood Plan had a short input and information leaflets were handed to everyone present. Earlier the Neighbourhood Plan had been promoted at the Bat Walk attended by 30 people.
Werrington Show 17th August 2019 At Werrington Show our stand was seen by the 160 adult visitors and our team was able to speak to nearly 40 residents directly.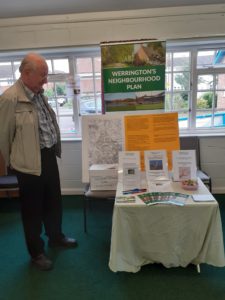 Open Steering Group Meeting 25th July 2019: A medal was deserved for working through the hottest day of the year (alledgely the hottest day ever!)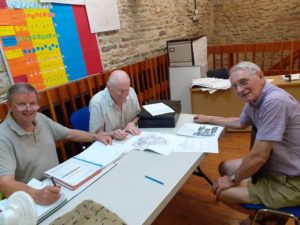 Werrington Community Association Annual General Meeting 9th July 2019: Our Secretary gave a brief presentation and handed out leaflets to approx 30 WCA members at their AGM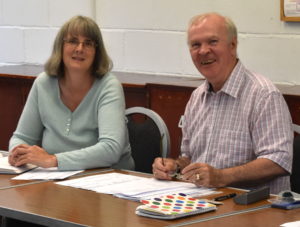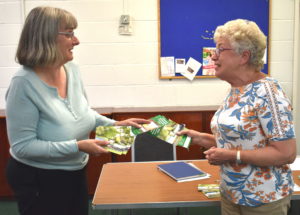 Werrington Carnival 22nd July 2019
The sunny and warm Carnival day brought out high numbers of people with organisers suggesting that 3,200 people attended the carnival field and estimates suggest that 80% of these were Werrington residents. The Neighbourhood Plan's stall was in a good location and with the prominent pop up stand, leaflet table and displays it is reasonable to suggest that over 2,000 Werrington residents passed by and were aware of the Neighbourhood Plan presence.
Postcards, information leaflets and feedback forms were readily available, our vision and objects were displayed for comment, there was a board with general information. a board with Werrington specific Neighbourhood Plan Information … and a 'Werirngton Past and Future' . A large number people casually looked at the stand and about 60 people directly engaged with us. From these the following points were made: Only a few people were aware of the intention to develop a Neighbourhood Plan, Werrington doesn;t need any more housing; concern that the Council will bring low costhousing  into Werrington,  Concern about the future of Werrington Centre and the Sports Centre, Enjoyment of Werrington's peacefulness and green spaces, Cuckoos Hollow is a jewel,Good cycling and walking routes. There were no adverse comments for the vision and objects
Further more two people offered to deliver leaflets, three people joined the mailing list and further engagement was made with 4 Werrington businesses.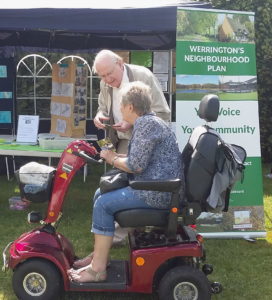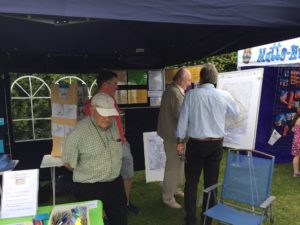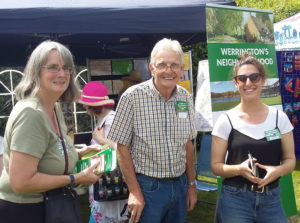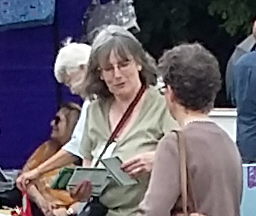 Werrington Area Forum's Annual  General Meeting 4th June 2019 
Approximately 55 people attended the Forum's Annual General Meeting (held on the same evening as the Neighbourhood Council) The full report can be seen on the Forum's Minute web page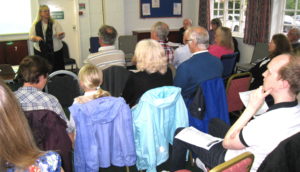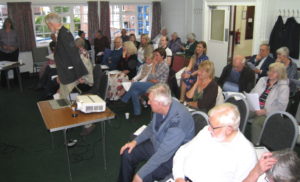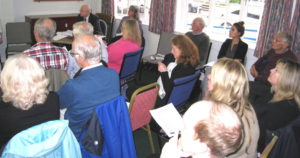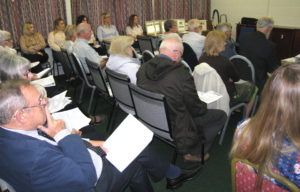 Helicopter Fun Day: A Neighbourhood Plan stand  was held alongside Neighbourhood Watch  at the Larks Green Helicopter Fun Day attended by over 250 people. The weather could have been better.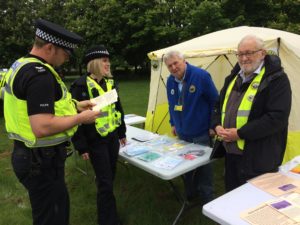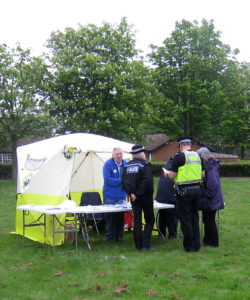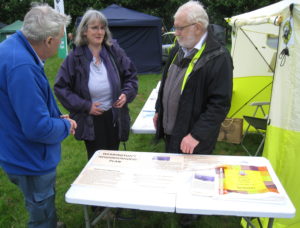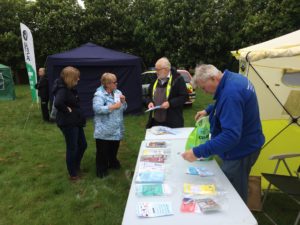 Forum Meeting 13th May 2019